After Washington, DC, its New York's turn to host the Dominican Film Showcase. GFDD once again will showcase a sample of the best films produced recently in the Dominican Republic by Dominican filmmakers on Dominican issues. The two-day event will take place at Symphony Space on Broadway.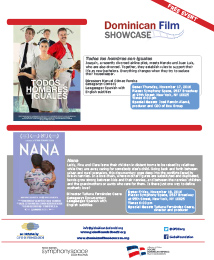 Todos los hombres son iguales
Joaquín, a recently divorced airline pilot, meets Manolo and Juan Luis, who are also divorced. Together, they establish rules to support their life as new bachelors. Everything changes when they try to seduce their housekeeper.
Director: Manuel Gómez Pereira
Category: Comedy
Language: Spanish with English subtitles
Date: Thursday, November 17, 2016
Place: Symphony Space, 2537 Broadway at 95th Street, New York, NY 10025
Time: 6:00 pm
Nana
Leidy, Fina, and Clara leave their children in distant towns to be raised by relatives while they are away caring for other people's children. Going back and forth between urban and rural scenarios, this documentary goes deep into the conflicts faced by live-in nannies. In a love chain, where mother figures are substituted and duplicated, bonds grow strong between kids and their nannies, and between the nannies' children and the grandmothers or aunts who care for them. Is there just one way to define motherly love?
Director Tatiana Fernández Geara
Category: Documentary
Language: Spanish with English subtitles
Date: Friday, November 18, 2016
Place: Symphony Space, 2537 Broadway at 95th Street, New York, NY 10025
Time: 6:00 pm
Special Guest: Tatiana Fernández Geara, director and producer
More information: www.dominicanfilmshowcase.org