news
Announcing the Winners of the 2018 FUNGLODE/GFDD Awards
January 16, 2019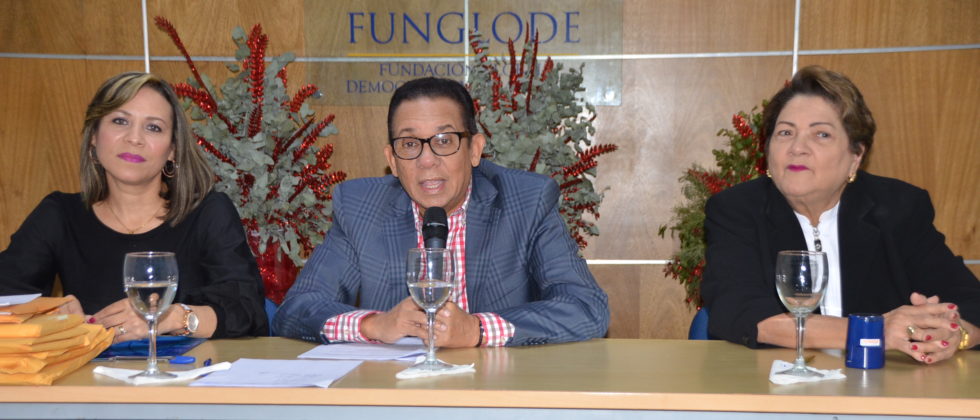 At the Funglode Art Gallery the winners were announced for the categories of story, poetry, essay, journalism and photography. No award was given for the novel category.
Through the Funglode Cultural Studies Center in Santo Domingo, la Fundación Global Democracia y Desarrollo (Funglode) and the Global Foundation for Democracy and Development (GFDD) announced the results of the 12th edition of the FUNGLODE/GFDD Awards for the categories of Journalism, Photography, Story, Essay, Novel and Poetry on January 16, 2019.
José Rafael Lantigua, Director of the Cultural Studies Center at Funglode and Catherine Florentino, the Center's Executive Coordinator, announced the awards in the different categories during a press conference where the judges' decisions were revealed. As a public notary, lawyer Cecilia García was also in attendance.
This year the program received 246 entries in total: 126 stories; 3 novels; 25 poems; 13 for journalism and 8 essays. In the photography category there were 71 proposals: 35 in color; 24 in black and white and 12 in digital photography.
The first-place winners received cash prizes that varied between RD$30,000.00 and RD$150,000.00. The awards will be distributed in February 2019 on a specific date and time that will be announced soon.
The winners of the story, poetry, journalism, and essay categories, in addition to receiving the cash prizes, will have their works published in the Editorial Funglode.
"PEDRO MIR" POETRY AWARD
– Award Winner: "La muerte en cuatro -otra vez la muerte." Author: Natacha Batlle (Pseudonym, Odín Cito).
Judges: Ylonka Nacidit-Perdomo, Enegildo Peña and Pedro Ovalles
JUAN BOSCH STORY AWARD
– First Place: "Susurros al atardecer sobre el río Higüamo." Author: Víctor de Frías (Seudónimo, Cerebrito Cabral)
– Second Place: "Laia." Author: Víctor Arcturus Estrella Sánchez (Pseudonym, La IA)
-Third Place: "El viejo ventilador." Author: Elizabeth Villamán
Honorable Mention:
– "El Padrino de Beto Tres Cuchillos," by Víctor de Frías (Pseudonym, Ti Noel)
– "La carta," by Carlos Castro (Pseudonym, Oscar Why).
– "En boca cerrada no entran moscas," by Leonardo Nen (Pseudonym, Virgilio Peix)
Judges: Pedro Antonio Valdez, Rafael José Rodríguez and Emilia Pereyra
FEDERICO GARCÍA GODOY NOVEL AWARD
(This award was not given)
Judges: René Rodríguez Soriano, Luis R. Santos and Rubén Sánchez Féliz
PEDRO FRANCISCO BONÓ ESSAY AWARD
– First Place: "Algunas dilucidaciones exentas del currículum académico dominicano." Author: Pedro Carreras (Pseudonym, Rompesaraguey)
– Runner-up: "Modernidad, imperativos de un mal necesario." Author: Bismar Galán Gálvez (Pseudonym, Wil-Ga 23)
– Second runner-up: "Globo-imaginarios (representación de la "Verdad"-Mentira en la complejidad de lo global." Author: Juan Gelabert (Pseudonym, Nauj Trebaleg).
Judges: Franklin Gutierrez, Frank Rosario and Basilio Belliard
RAFAEL HERRERA JOURNALISM AWARD
– First Place"Embarazos en Adolescentes". Author: Doris Pantaleón, published in Listín Diario
– Finalist: "El Primer Empleo." Author: Lihon Tejeda, published in Listín Diario
– Finalist: "Primavera de Miel para los Apicultores del Noroeste." Author: Panki Corcino, published in El Dinero
Acknowledgment:– "Una Metrópolis Enferma," series published in Listín Diario.
Authors: Miguel Franjul, Doris Pantaleón, Wuanda Mendéz, Dalton Herrero, Santiago de la Cruz, Martín Adames, Scarlen Pozo, Javier Flores, Jaclin Campos, Yaniris Lopez, Jhenery Ramirez, Patria Reyes, Adriana Peguero, Sergio Cid, Lilian Tejada and Ramón perez Reyes.
Judges: José Monegro, Mario Rivadulla and Máximo Jiménez
ABELARDO RODRÍGUEZ URDANETA PHOTOGRAPHY AWARD
Color:
– First Place: "Fiesta y mañana Gallo," by Francisco Fortunato
– Finalist: "Mirada que refleja una vida," Danisel Cueto
– Honorable Mention: "Pa'guandulito," by Francisco Fortunato
Black and White:
– First Place: "Retrato a Yolanda," Francisco Fortunato
– Finalist: "Después de la descarga," by Domingo Marte
– Honorable Mention: "Forma y ser," by Clifford Mariano
Digital Photography:
– First Place: "Reminiscencia," by Danisel Cueto
– Finalist: "Minions," by Nehemías Alvino Castro
-Honorable Mention:
– "Luto,"by Martín Rodríguez
– "Parallax," by Waldo Rubén
Judges: Mariano Hernández, Domingo Batista and Mayra Johson.