news
At the International Book Fair, ReCrearte workshop participants discover the potential of creative recycling
May 7, 2019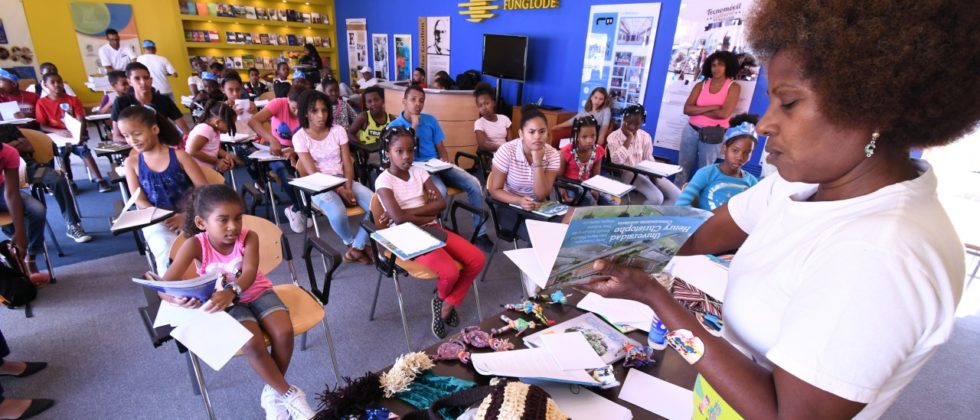 Santo Domingo, D.R. – The GFDD program highlights ways to reduce environmental waste by giving new life to discarded materials to create pretty and useful products.
GFDD took advantage of the International Book Fair of Santo Domingo—called the "great cultural event of the country"—to offer a workshop as part of its ReCrearte program. On the morning of Saturday, May 4, 2019, GFDD representative Lucía Marte spent time with more than 50 visitors of the Fair of varying ages to carry out a creative recycling project.
The workshop leader began the activity—hosted in coordination with FUNGLODE, the Ministry of Culture, and the Book Fair's administration team—by guiding a conversation on global warming. The participants then learned the 3Rs, the basic principles of sustainable waste management (reduce, reuse, recycle) and developed the concepts by creating notebooks out of recycled paper for daily personal use.
The ReCrearte program is an initiative of GFDD with a dual purpose: first, to raise awareness of the need for sustainability to ensure human wellbeing; and second, to inspire and empower new entrepreneurial possibilities for individuals and communities by taking advantage of the potential of discarded materials. The program seeks to offer up to 30 artistic workshops each year accessible to all levels of society in 5 provinces in the Dominican Republic, incorporating, in addition, an inclusive gender perspective.
The May 4 workshop was held at the FUNGLODE stand in the Book Fair facilities in Santo Domingo's colonial area.