news
Conference on How "Plastic and Other Solid Waste Harms the Environment and Biodiversity" in Santo Domingo
March 13, 2019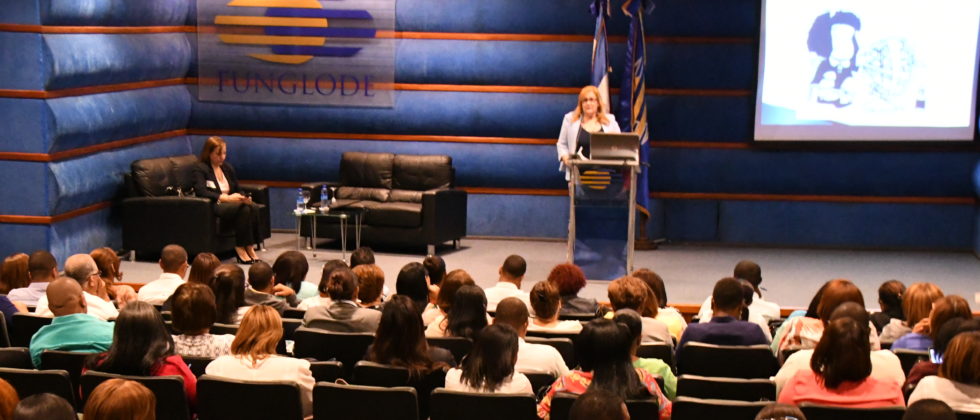 On March 12 dozens of teachers from different regions of the Dominican Republic participated in a conference entitled "Plastic and Other Solid Waste Harms the Environment and Biodiversity" at the Funglode Headquarters in Santo Domingo. The Global Foundation for Democracy and Development (GFDD) and its sister organization in the Dominican Republic, Fundación Global Democracia y Desarrollo (Funglode), hosted the workshop, which was led by Grupo Jaragua's Executive Director Yvonne Arias.
The workshop was attended by nearly 125 educators who had the opportunity to exchange ideas and share opinions about changes implemented in their respective schools to reduce plastic and solid waste.
At the conference Arias stated that "According to the World Bank the global level of urban solid waste was about 1,300 million tons in 2012 and for 2025 will be around 2,200 million. On June 5, 2018 National Geographic released the article "Planet or Plastic?" by the author Laura Parker. The essay explains that each year about 8 million tons of plastic end up in the ocean. It can take centuries for plastic to degrade at the molecular level."
The meeting was supported by the Ministry of Education, Propagas, Funglode, the Dean of the Geography and History Department at the University of Central Michigan and Grupo Jaragua.
About Geography Week 2019
For the 26th occasion, Plan LEA, the educational initiative of the Listín Diario, is celebrating Geography Week. The celebration's main objective is to raise awareness amongst schools, families and entire communities about the importance of taking care of our environment through the elimination of plastics and solid waste in streets and coastal areas. The event is an annual celebration that takes place in Santo Domingo and includes many activities and workshops.
About Geography Week Educational Materials
The topics that will be covered in Geography Week 2019 will be included in a workbook.
The texts will be used to provide the educational community with updated and useful materials to share and incorporate fundamental concepts and attitudes on the importance of understanding geography.