news
Dr. Leonel Fernández Presents 32 Books on the RD2044 Project
February 6, 2019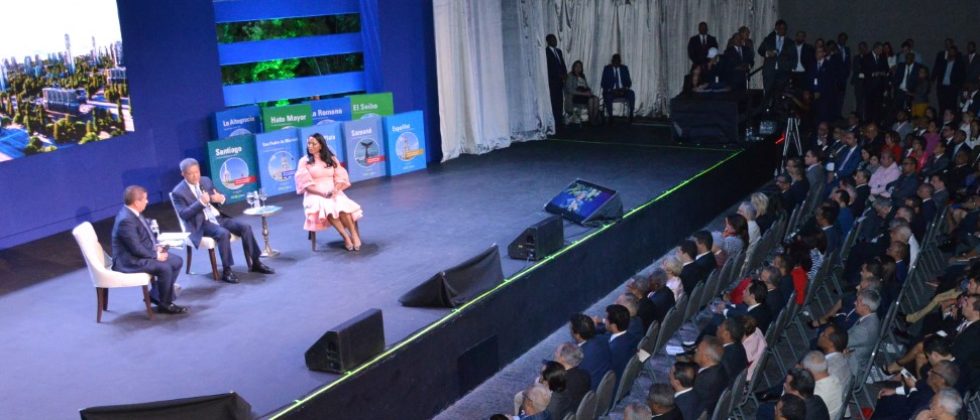 Former President of the Dominican Republic and Founder and President of the Global Foundation for Democracy and Development/la Fundación Global Democracia y Desarrollo (GFDD/Funglode), Dr. Leonel Fernández, presented 32 books concerning RD2044. The books come after a 10-year-long research initiative and offer a clear vision of infrastructure projects proposed for the entire country. The proposals intend to bring about sustainable development as the Dominican Republic celebrates its bicentennial.
The event took place as part of the Dominican Republic 2044 (RD2044) project, an initiative of Funglode.
Dr. Fernández explained that RD2044 is a look 30 years into the future of the Dominican Republic. The project aims to empower representatives from all communities in the country and takes into consideration factors such as residence zone, gender and ethnic ancestry, which impact access to basic services like health, education and employment opportunities as well as personal and community development.
The former President of the DR mentioned that RD2044 intends to transform the lives of all Dominicans through the construction of more than 1,200 infrastructure projects that will directly contribute to development and growth and prepare the country for the future. The initiative will position the Dominican Republic as a model country for infrastructure throughout Latin America and the Caribbean.
During the presentation Dr. Fernández was accompanied by César Fernández, the Director of the Center of Urban Studies and Infrastructure at Funglode and Yarima Sosa, Director of the Center for the Study of the Future at the same organization, who expressed gratitude for the support they had received. The pair also offered details about the RD2044 and shared experiences from their 10 years of research together.
Several testimonies were given from the following experts: Marcos Morales (researcher), Abel Martínez (Mayor of Santiago), architect Nancidith Espinal, Antony Davinson (Dean of the Business Department at Fordham University), Martín Abbot (Dean of the Civil Engineering Department at Intec), Jerome Glenn (Futurist), Katherine Then (Head of Research) and economist and PR specialist, Ramón Núñez Ramírez.
Attendees of the event included business leaders, academics, government officials, senators and congress members, ambassadors, consulate officials as well as many other influential personalities in Santo Domingo.
Focal Points
"The strategic focuses of RD2044 are improving the quality of basic services like potable water, sanitary drainage systems and electricity; tourism and cultural diversification, productive consolidation through solid employment opportunities; the development and creation of knowledge, community association, urban and institutional planning, sustainable development and provincial and regional interconnectivity," stressed the President and Founder of GFDD/Funglode.