news
Fundraising, Good Times at the 14th Annual GFDD Golf Tournament
September 24, 2019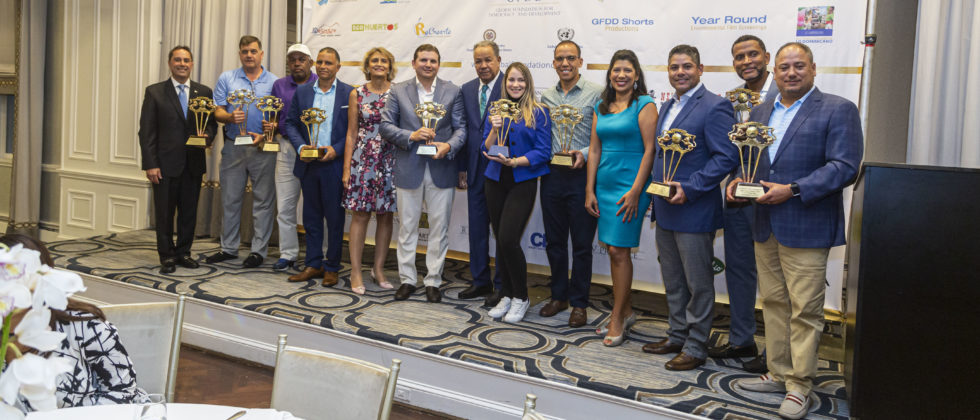 Glen Head, NY – On Monday, September 23 the Global Foundation for Democracy and Development (GFDD) hosted the 14th GFDD Golf Tournament at Glen Head Country Club in Glen Head, New York.
During a day full of golf, high-ranking officials, industry leaders, business executives, and influential members of the Dominican community came together to compete and fundraise for GFDD.
At the start of the event GFDD Executive Director Natasha Despotovic gave opening remarks and Rudy Fuertes, the president of the Organizing Committee, thanked guests for their attendance. Despotovic explained that the funds raised from the tournament would go directly to GFDD's projects and programs supporting social, economic and democratic development in the Dominican Republic. Then, with a ceremonial putt, 1983 Baseball Hall of Fame Inductee Juan Marichal initiated the tournament.
Throughout a beautiful day at the Glen Head Country Club, 98 passionate golfers competed for the winning title in pairs. Marichal, who has attended all 14 GFDD golf tournaments, went around the course cheering on and interacting with participants.
Participants enjoyed a selection of special Dominican foods and beverages at a cocktail reception following the tournament,. Before Despotovic handed out awards to the winning contestants, participants watched GFDD's institutional video and highlights from the day of golf. The trophies given to winning contestants were courtesy of José Ignacio Morales "El Artístico", a renowned Dominican blacksmith who donate them for the award ceremony.
Despotovic thanked the Organizing Committee Members Rudy Fuertes, Yamile Eusebio Paulino, Kenia Hernández, Benny Rodríguez, Francisco Jorge, José Alberto Sánchez, Julio Coen, Samuel Collado and Cristina Cepin for putting together a day of entertainment and celebration for the players.
This year's winners are:
1st Place Gross: Andrés Marranzini and David Loren (61)
2nd Place Gross: Desai Semil and Kim Simon (63)
1st Place Net: John Scalfani and Chris Luna (64 *won on match of cards)
2nd Place Net: Dorian Vargas and Andrés Almánzar (64)
3rd Place Net: José Sánchez and Carlos Rodríguez (65)
4th Place Net: Julio Coen and Fidel Pérez (66 *won on match of cards)
5th Place Net: Rafael Pérez and Alejandro Mora (66)
Closest to pin #4: David Loren 3'9"
Closest to pin #7: Windsor Rhoden 10'4"
Closest to pin #12: Anibal Lantigua 2'2"
Closest to pin #16: Randy Luftig 12'4"
Long Drive #18: Men: Semil Desai | Lady: Gabi Castillo
Since 2010, GFDD Golf Tournaments have been a part of GFDD's efforts to engage supporters while promoting fundraising efforts. The objective of these events is to benefit the Global Foundation for Democracy and Development (GFDD) and its projects and programs promoting social, economic and democratic development in the Dominican Republic.
For more information visit: www.gfddgolf.org