news
Funglode and GFDD Celebrate in Miami their XVI Golf Tournament with Great Success
April 19, 2022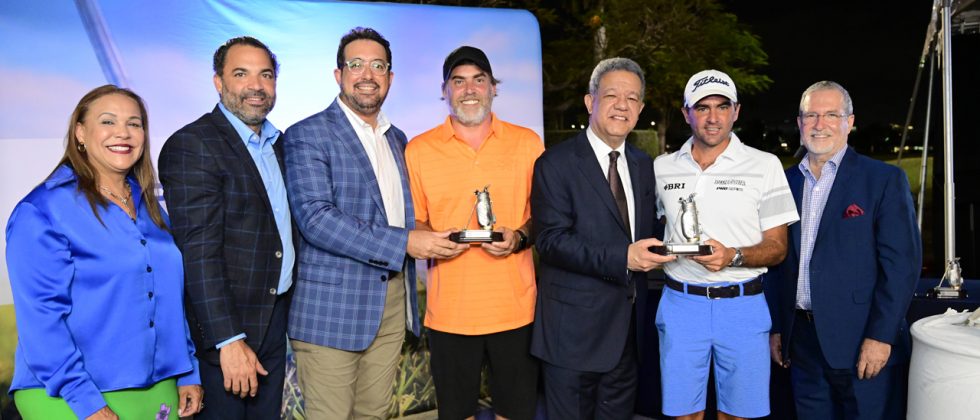 MIAMI. – The Global Foundation for Democracy and Development (Funglode) and its sister institution in the United States, the Global Foundation for Democracy and Development (GFDD), celebrated with tremendous success the XVI GFDD 2022 Golf Tournament.
The former President of the Dominican Republic, Dr. Leonel Fernández – and current president of the GFDD and Funglode – attended the opening of the tournament and presented the trophies to the winners. The event was held at the Melreese Country Club, in Miami, this past Monday, April 18.
Also present at the popular sporting event was the former United States Ambassador to the Dominican Republic, Robin Bernstein and her husband, attorney Richard Bernstein, and Ruddy Fuertes, prominent Dominican businessman in the U.S., among other renowned personalities.
Ricardo Jacobo and José Zaiter were part of the tournament´s organizing team, which was attended by well-known athletes including several retired Major League Baseball players.
The goal of the event is to benefit GFDD projects and programs, which promote social, economic and democratic development in the Dominican Republic. The GFDD is a private, US-registered, nonprofit, nonpartisan organization working to promote cooperation between international institutions and the Dominican Republic, conducting research and analysis, providing educational and training programs, and implementing development opportunities collaboration for Dominicans in the country and the Diaspora, in areas that are critical for the advancement and modernization of the Dominican Republic.
The first edition of the GFDD Golf Tournament took place in Hastings on Hudson, New York, in September 2010 at the oldest golf club in America, St. Andrews Golf Club (1888).
The first GFDD Golf Tournament was held in Hastings on Hudson, in New York, in the St. Andrews Golf Club, the oldest golf club, opening its doors for the first time in 1888.
In July 2014, the Fourth Annual Golf Tournament was held for the first time in Miami.
TOURNAMENT WINNERS
CATEGORY A:
First Place (Net):
José Hernández and Rafael Reynoso (Score: 62)
Second Place (Net):
Calvin Enlow and Jeffrey Johnson (Score: 62)
Third Place (Net):
Ramiro García and Bobby True (Score: 63)
CATEGORY B:
First Place (Net):
Andre González and Rafael Lora (Score: 62)
Second Place (Neto):
Heath Slocumb and Steve Doyle (Score: 63)
Third Place Net:
Carlos Cadet and Francisco Rivas (Score: 64)
Great Winners – Overall (Gross):
Brian Prilick and Sebastian Saavedra (Score: 61)
Great Winners – Overall (Net):
Chris Clark and Don Wright (Score: 62)
Closest to the Pin:
Hole #2 – Dorian Vargas
Hole #5 – Rafael Reynoso
Hole #8 – Sebastián Saavedra
Hole #12 – Brian Prilick
Hole #15 – Mauricio Alzate
Longest Driver:
Women:  Andrea Rothaugh
Male:  Calvin Enlow