news
GFDD and John Jay College of Criminal Justice Presented Results of Research on Prison Reform in the Dominican Republic and the SDGs
December 12, 2019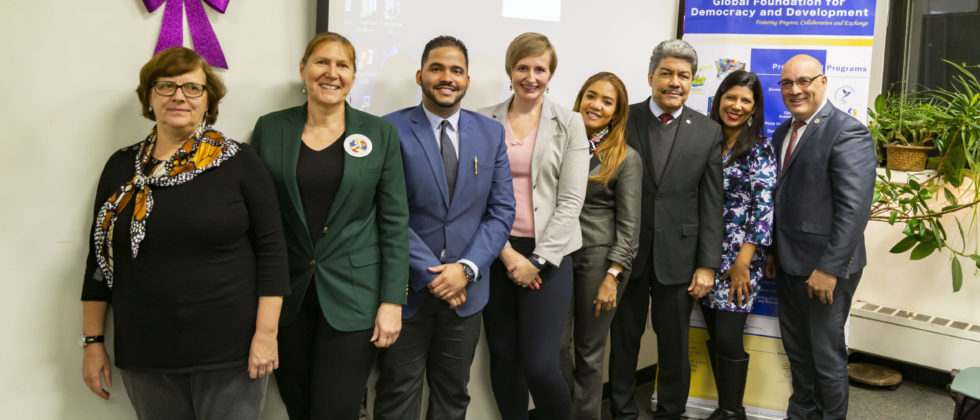 New York, NY – On Tuesday, December 10th 2019, Jennifer Peirce, PhD Candidate in Criminal Justice at John Jay College of Criminal Justice/CUNY Graduate Center in New York City and 2017 GFDD/Funglode Research Fellow, presented her work on "Prison Reform in the Dominican Republic and the United Nations' Sustainable Development Goals (SDGs)".
The presentation, held at the 520.26 Haaren Hall of the Department of Sociology at the John Jay College of Criminal Justice in New York City, started with the welcoming remarks by Rosemary Barberet, PhD, Professor at the Sociology Department and Director of the International Criminal Justice Major John Jay College of Criminal Justice. Barberet congratulated Peirce's research work and thanked the audience for participating in the event.
Yamile Eusebio, GFDD's Director of the New York Office, introduced the presenter and noted that this was a GFDD initiative under its Fellows Program which aims to support research on relevant topics for the Dominican Republic, and mentioned the collaboration of the City University of New York (CUNY) and the John Jay College of Criminal Justice. "Mrs. Peirce was very professional and her research is of very good quality!", said Eusebio.
Following the introductory remarks, Jennifer Peirce presented her work  "Prison Reform in the Dominican Republic: An Analysis through the lens of the United Nations Sustainable Development Goals". She talked about the benefits and also the challenges of both existing prison models in the country (the new one and the traditional one).
"This report has recounted the key elements of the Dominican prison reform experience and has identified key issues through the SDG 16 implementation plan, as articulated by the Pathfinders Report", she noted.
After the presentation, the audience was able to engage with the presenter on an interesting Q&A session, followed by a reception sponsored by Fine Fare Supermarkets.
For more information about the Fellows Program, visit: https://www.globalfoundationdd.org/projects/fellows-program/