news
GFDD, BHD-Leon Bank and Latin Women's Association Commemorate 175th Anniversary of Dominican Independence
March 4, 2019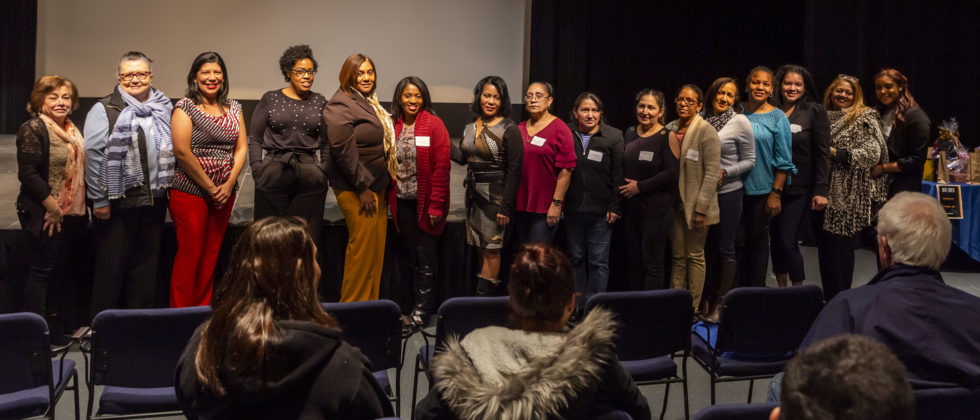 The feature Dominican documentary "Hay un país en el mundo" (There is a Country in the World) was presented in Torrington, Connecticut as part of GFDD's cultural program in the United States and to celebrate the 175th anniversary of Dominican independence (on February 27). The event, celebrated on February 28, was co-hosted by the Latin Women's Association, with the support of Dr. Ruth González, from Vargas Law Firm.
The event was held at the Warner Theater's Nancy Marine Studio before a packed audience interested in learning more about Dominican culture through the visual journey provided by the documentary.
Ms. Yamile Eusebio Paulino, Director of the GFDD New York office, moderated the event.  In her welcoming remarks, Ms. Eusebio thanked the sponsors and organizers of the event, especially community activist Maria González and Dolores Ramirez.
Before formally introducing the 90-minute documentary, Ms. Eusebio thanked the General Manager of the Dominican Banco BHD-León, Steven Puig, and the bank's Vice President of Corporate Communication and Social Responsibility, Ms. Josefina Navarro, for their trust in GFDD and allowing the institution to travel throughout the United States to present the documentary.  The film was produced by José-Pinky-Pintor.
The Documentary
The documentary is a walk through the natural landscape of the Dominican Republic. It describes the country's historic, cultural and social history as explained by experts in their specific areas of interest.
At the end of the showing Ms.  Eusebio led a fun trivia session with the audience.  Winners Marlene Rodas and Ana Cepeda responded correctly to the trivia questions presented and received publications published by GFDD – "Lo Dominicano/All Things Dominicans." The Spanish/English book is a perfect complement to the documentary and highlights each of the most important aspects of the Dominican Republic by combining text and beautiful images for the reader's enjoyment.
The audience thoroughly enjoyed the documentary.  From their seats they laughed, danced and, at times, even cried.
Ms. Meredith Félix summarized the overwhelming feeling in the audience when she stated:  "I love baseball and I enjoy the finest beaches of the Dominican Republic, what I love the most was the kids' faces smiling and having fun."