news
GFDD Co-Hosts Discussion on "Social Good: Having an Impact Locally & Globally"
November 22, 2019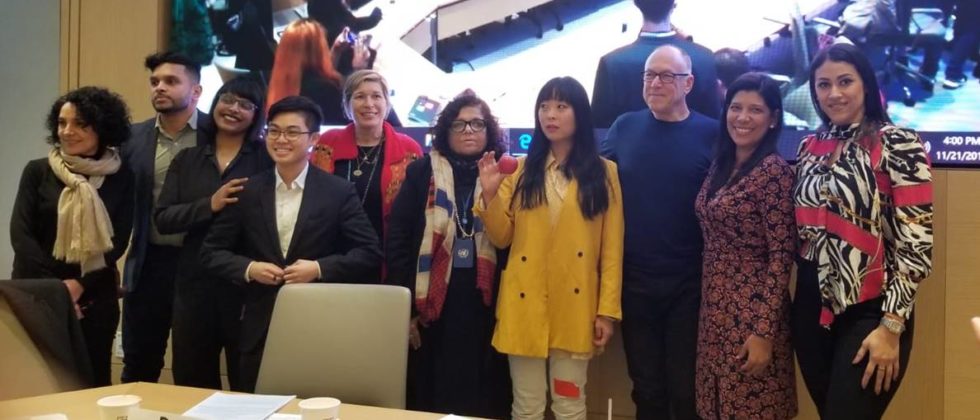 Global Foundation for Democracy and Development (GFDD), together with Global Family, General Assembly of Partners, Habitat Civil Society Working Group, Huairou Commission, NGO Major Group Urban Cluster, Consortium for Sustainable Urbanization, Humanitarian Focus Foundation, Youth for a Better World/MMUN/Youth Impact Forum, Salvation Army, International Social Justice Commission, Global Family for Love & Peace, WFUWO, ICW, YUNO, UN2020, CoNGO and UNA-USA Council Organizations, co-hosted an interesting and timely discussion on "Social Good: Having an Impact Locally & Globally", held in New York City at the Bahai International Office.
Speakers at this event included: Christine Dimmick, Founder/CEO of The Good Home Company Inc. and Author of Detox Your Home; Shenkeri "Nika" Chandramohan and Bryan Kay, Co-CEOs and Co-Founders of YUNO by Food to Heal; Manuela Zamora, Executive Director, NY Sun Works and the Greenhouse Project Initiative; Wen-Jay Ying, Founder and Director, Local Roots NYC; Mohammed Faisal, Founder/CEO of The Money Hub; David Wysok, EIR of Mount Sinai Hospital Innovation & the Diversity Hub; and Janell P. Mercado, Science Teacher, Americas Bicultural School in the Dominican Republic (via Zoom).
Margo LaZaro, President & Chair of NGOCSD-NY gave the welcome remarks, while Dena Mekawi, CEO of Style & Resilience PR moderated the discussion. After the main presentations by the speakers, Dr. Andrise Bass, BSCJ, MBA, Ph.D, Founder of Humanitarian Focus Foundation and Vice President of ASPAFrique, Climate Reality Mentor & Vice Chair of NGOCSD-NY, made the final comments and talked about the importance of engaging on initiatives that made a positive impact in communities.
"A business is never too small to help others and a business is never too large to change for the better", said Dimmick in her intervention.
The main purpose of the event was to engage the participants in an interactive discussion about the importance of creating businesses and job opportunities knowing the impact that they will have in their communities and the world. The notion that "businesses should always consider that their activity must bring revenue, but also social good", was a key part of the interaction.