news
GFDD Co-Hosts Workshop on Inclusive and Resilient Infrastructure at the 68th UN Civil Society Conference in Utah
August 26, 2019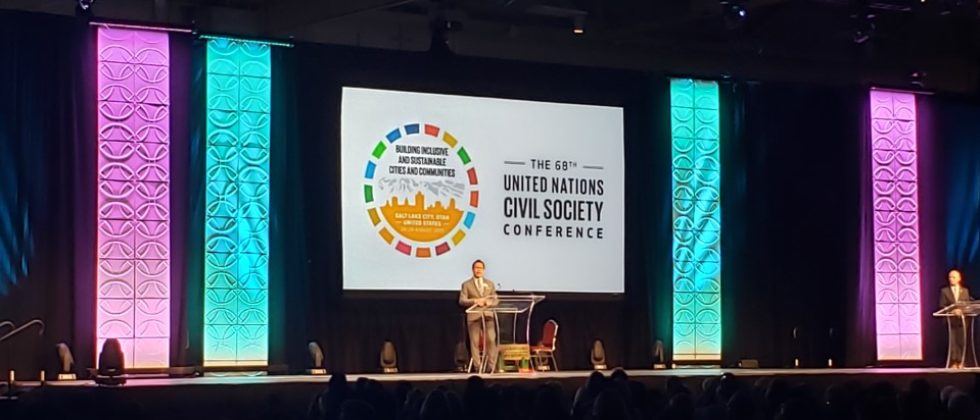 The 68th United Nations Civil Society Conference, "Building Inclusive and Sustainable Cities and Communities", took place August 26-28, 2019 at the Salt Palace Convention Centre in Salt Lake City, Utah. Global Foundation for Democracy and Development (GFDD), as a registered non-governmental organization with consultative status to several United Nations' bodies, co-hosted several workshops in this important annual gathering for civil society organizations. Ms. Yamile Eusebio, GFDD's New York Office Director, represented the Foundation in these events.
The workshop "Inclusive and Resilient Infrastructure" was held on August 26th and was led by the NGO Committee on Sustainable Development-NY with the collaboration of GFDD, the General Assembly of Partners, Global Family, NGO Major Group Urban Cluster, and Habitat Civil Society Working Group. It discussed how achieving the UN Agenda 2030 requires connecting key sustainable development goals, a phenomenon that building inclusive and sustainable cities and communities well illustrates, especially through supporting inclusive and resilient infrastructure.
As noted in the 2016 Global Sustainable Development Report, "interlinking infrastructure investments must be done properly, that is based on a science-policy perspective focused on a nexus approach. Only then will such programs have a positive impact on eliminating poverty, promoting economic prosperity, and ensuring environmental sustainability for all."
Speakers on this panel included Reid Ewing, PhD, Distinguished Professor of City and Metropolitan Planning and Distinguished Research Chair for Resilient Places, University of Utah; Jo Ivey Bouffard, MD, Clinical Professor of Global Health, New York University, and President, International Society for Urban Health; Cesar Fernandez, Director of Funglode's Centre for Studies of Infrastructure and Urbanism; and Eugenie Birch, PhD, Nussdorf Professor of Urban Research, University of Pennsylvania, Co-Director, Penn Institute of Urban Research, President of the General Assembly of Partners, as the moderator of the discussion.
"Experts now know that in order to achieve healthier urban communities worldwide, we must improve the social and physical environments in which people live", noted Mr. Bouffard.
In his presentation, Mr. Cesar Fernandez, Director of Funglode's Centre for Studies of Infrastructure and Urbanism, discussed five major public infrastructure challenges: investment, technology, sustainable development, social and territorial equity, and institutional development. "On the 2030 Agenda for Sustainable Development, 5 of the 17 Goals refer directly to infrastructure. All of these goals imply the need to make a new approach in the way infrastructure is provided", he noted, following with "sustainable infrastructure promotes inclusive economic development. Civil Society has, now and in the future, a major role to achieve international goals."
From this workshop, CSOs including GFDD learned best practices and experiences from around the world that helps them improve their own work, for example, the need to have a communication strategy to promote the health benefits of a well-designed urban infrastructure; the importance of having several financing sources to improve the inclusiveness and resilience of infrastructure; and the vital role that climate change plays or should play in the design of infrastructure nowadays.
For more information about this event, visit: https://outreach.un.org/ngorelations/slc-conference