news
GFDD/Funglode Holds Successful 6th Dominican Film Showcase
September 10, 2022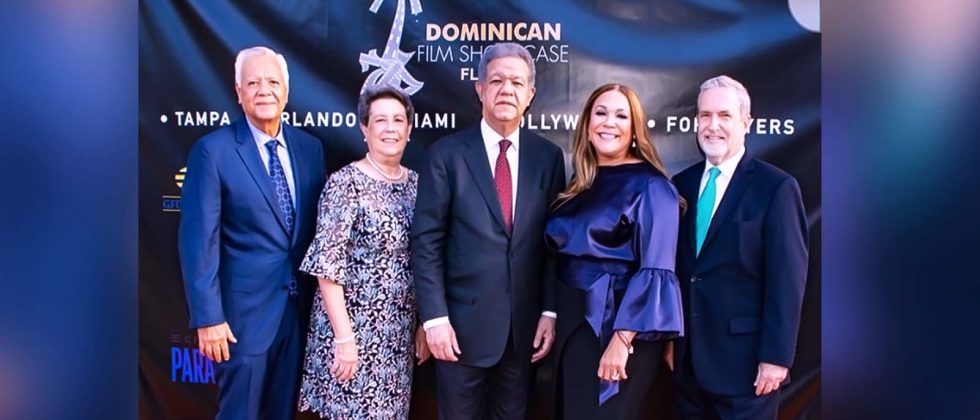 The former President of the Dominican Republic and President of GFDD/Funglode, Dr. Leonel Fernández, headed the inaugural ceremony of the film showcase. The event was held on Friday, September 9, in Miami. The head of the think-tank in Florida, José Záiter, co-hosted the event.
MIAMI. With the participation of former Dominican Republic President, Dr. Leonel Fernández, the 6th Dominican Film Showcase (DFS) took place on Friday, September 9, at the Manuel Artime Theater in Miami.
The Florida office of the Global Foundation for Democracy and Development (GFDD), sister institution of the Fundación Global Democracia y Desarrollo (Funglode) in the United States, organized the event which brought together hundreds of film lovers from various countries.
The film Mis 500 Locos (My 500 Madmen, unofficial English translation), by Leticia Tonos, opened the Showcase. During the inaugural event, DFS presented Dominican actress Isabel Natera with an especial award.
Fernández, also President of Funglode/GFDD, expressed his satisfaction with the event. This is the sixth year the Showcase is featured. The former Head of State highlighted the turnout and interest shown by the diverse public that was attracted by the quality of Dominican films.
The Showcase was Featured in Orlando, Tampa, Fort Myers and Broward County
For the first time, DFS took the event outside the city of Miami. The films were shown at Valencia College, in Orlando, and in the Ritz Ybor Theatre, in Tampa, where the turnout was standing-room only.
The film La Rasante, produced and directed by the award-winning filmmaker Hans García, was shown in the abovementioned theaters, after the inaugural ceremony. The sold-out event concluded this past Tuesday, September 13.
The DFS continued on to Hodges University, in Fort Myers, and ended this past September 13 at the Cinema Paradiso in Hollywood, in Broward County, featuring García´s film.
José Záiter Expresses his Appreciation for the Support Received
According to José Záiter, GFDD/Funglode executive director in Florida, «the success we are experiencing is due to the extraordinary work that has been carried out by our institution and the volunteer network that support our projects."
Záiter was accompanied during the Showcase by Omar de la Cruz, director of the Santo Domingo Global Film Festival, and filmmaker García. Also present were Soulangel Santana, executive under-director of GFDD/Funglode-Florida; Amada Vargas, member of DFS´Organizing Committee, and Luis Cheas, financial director of the GFDD/Funglode Florida office.