news
GFDD/Funglode Present at the First Dominican Book Fair in Canada
October 17, 2019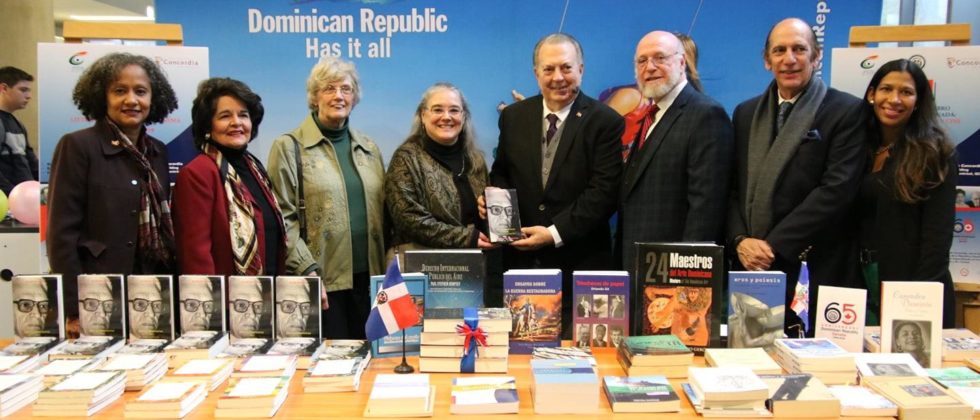 Montreal, Canada – Collaborating with the Dominican Embassy in Canada, the Ministry of Culture of the Dominican Republic, and other institutions, Global Foundation for Democracy and Development (GFDD) and its sister organization in the Dominican Republic, Funglode, participated in the first Dominican Book Fair in Montreal, showcasing a variety of their publications and promoting the Dominican culture in the Northern nation. The event, carried out at the facilities of Concordia University on October 15-17, 2019, coincided with the celebration in Canada of the Hispanic Heritage Month.
During the inaugural reception, Minister Eduardo Selman highlighted the diplomatic fraternity between the Dominican Republic and Canada, and also noted the presence in Canada of an important Dominican diaspora.
In addition to the main exhibit, Dominican participation included several seminars on Dominican literature and history with Canadian and Dominican authors, a book donation to the Concordia University library, screenings of Dominican films, gatherings with Dominican students in Montreal, and other artistic and cultural activities.
"This event is part of the commemoration activities of the 65th Anniversary of Diplomatic Relations between Canada and the Dominican Republic, scheduled by the Diplomatic Mission and the Hispanic Heritage Month in Quebec, which this year has the Dominican Republic as a guest of honor", said former Minister of Culture, Ambassador Pedro Vergés.
"All Things Dominican" and "Dominican Republic: New Perspectives", which show beautiful images of the country, where amongst the publications that GFDD/Funglode displayed and donated to the Concordia University as part of this event. Other volumes included the Dominican Republic Encyclopedic Dictionary of the Environment, Revista Global, Research and Ideas Series, and some of the publications by President of GFDD/Funglode, Dr. Leonel Fernández, among others.
After Montreal, the exhibit moved to Ottawa for a day on October 19th, where more Canadians where abel to enjoy the Dominican artistic, cultural and literary display.