news
GFDD Global Roundtable with Dr. Bruce Niswander, Director of the Global Business Incubator
March 26, 2012

Today, March 26, 2012, the GFDD Global Roundtable hosted a discussion session with Dr. Bruce Niswander, Director of the Global Business Incubator – a recent initiative of South-South News.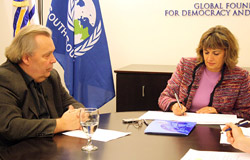 The Incubator seeks to facilitate government and private sector opportunity to build capacity in countries of the Global South to leverage
innovation and creativity for the achievement of the Millennium Development Goals. GBI works with universities, businesses and governments to foster job creation and help entrepreneurs in developing countries to gain access to world markets.
Dr. Niswander discussed how the Global Business Incubator is working to create partnerships and enhance local knowledge for the benefit of local communities, businesses, governments and academia. In order for these partnerships to be
effective, all parties must experience a gain.
Dr. Niswander explained that GBI's modus operandi is not to enter into partnerships with lots of rules and details, but rather to draw upon the talents and existing structures of countries and people. One of the many ways in which GBI makes use of local talent is through consultation and collaboration with aging and retired individuals whom possess life experience and skills that can be passed on to younger
generations.
The expert in entrepreneurship emphasized repeatedly the critical importance of uniting the commercial market place and the academic and education marketplace, stating that it is simply unacceptable for universities to graduate students that do not possess the skills desired by businesses.
"One of the greatest elements in education is an orientation toward action learning, participation in the real world," posited
Niswander.
Presently, GBI is working to harness potential in the areas of renewable energy, sustainable tourism, fashion and food.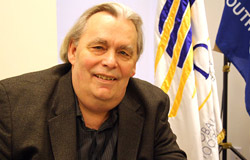 About Dr. Bruce Niswander
Prior to his appointment as Director of the Global Business Incubator, Dr. Niswander was a professor of
entrepreneurship at the Polytechnic Institute of New York University and the Director of the Varick Street Business. In addition to his role as Director of GBI, Dr. Niswander is also an acting advisor to IQ4, a New York City company that sells a social-media platform for businesses, governments and universities to collaborate on research and dissemination of information.
About "The GFDD Global Roundtable"
"The GFDD Global
Roundtable" is a monthly series produced by GFDD in partnership with South-South News. The objective of the program is to promote dialogue on issues of international concern. Each broadcast features discussion with a prominent international figure. The series seeks to inform GFDD viewership in the United States, the Dominican Republic and around the world of innovative initiatives pertaining to the Millennium Development Goals and other sustainable development targets being realized in each
of the countries being spot-lighted.
Related links:
www.southsouthnews.com
http://www.crainsnewyork.com/article/20111207/TECHNOLOGY/111209901