news
GFDD Participates in 5th International Forum on Sustainable Development Goals for Local Communities: Inter-Institutional Approach
February 26, 2020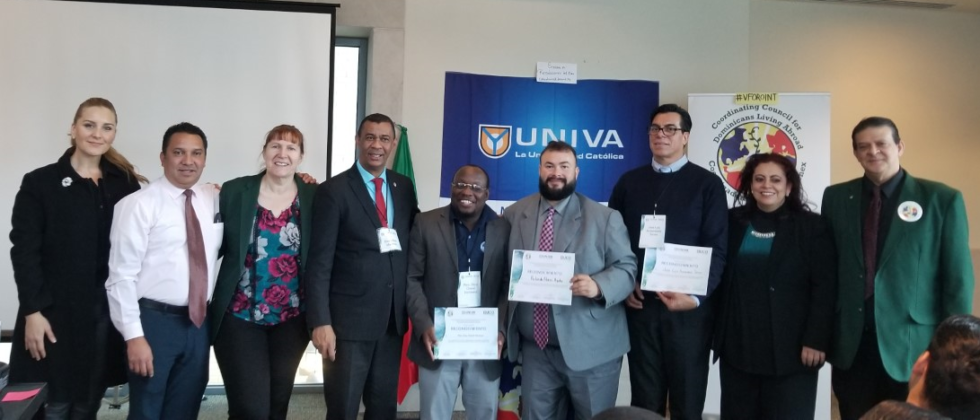 The Coordinating Council for the Dominicans Living Abroad Inc., (DORENEX), the UNIVA universities of Mexico, and UCO Colombia carried out the 5th International Forum on Sustainable Development (SDGs) for Local Communities: Inter-Institutional Approach, which took place in Yonkers, New York from the 16th to the 22nd of February, 2020.
The forum is represented by the delegates of Latin American and Caribbean countries including Mexico, Colombia, Costa Rica, Peru, Chile, Dominican Republic, Puerto Rico and the different diasporas from these countries that reside in the area of New York and Westchester. The delegates that take part in this event are the mayors, rectors, university directors, educators and students, and entrepreneurs.
The opening ceremony took place last Sunday February 16th, 2020 at 7:00 pm at the Portuguese American Community Center, located at 117 Park Avenue, Yonkers, NY 10703. The program of panels began on Monday, February 17th 2020 until February 20th 2020 from 9:30 am to 5:00 pm at the Westchester Educational Opportunity Center, Suny/ Westchester Community College located at 26 South Broadway, 6th Floor, Conference Room, Yonkers, NY 10701 and Yonkers Public Library Riverfront at 1 Larkin Center, Yonkers, NY 10701. The event was headed by Dr. Quezada, Superintendent of Yonkers Board of Education, Francisco Crúz Miolan, Executive Director of DORENEX Yonkers, USA, Miguel Estrella, General Secretariat of the Instituto Duartiano USA, Wilson Terrero, President of the Dominican Cultural Association of Yonkers, with the help of the guest panelists Prof. Juan Manuel González Arbelaez, Universidad Católica de Colombia (UCO), Dr. Natalia Salinas Bravo, Director of La Piedad Campus, Mexico (UNIVA).
The subjects were:
Challenges in Education within Hispanic/Latino Communities, sustainable development and the role of the university, closing gaps in early childhood education through family basics, youth leadership, emerging technologies in education, and working through unity to raise the community, among other topics. There was also a cultural program of activities including visiting the Hudson River Museum, Rockefeller Plaza, Memorial 9/11, and the headquarters of the United Nations.
The closing session of the forum was presented by Aida Walqui, Director of the Teacher Professional Development Program at WestEd, Susan Thaler, Acting Director of Yonkers Public Library, Dr. Natalia Salinas Bravo, Director of La Piedad Campus, Mexico (UNIVA), and Francisco Crúz Miolan, Executive Director of DORENEX.