news
GFDD Team Takes Part in the 2019 ISTE Conference on Educational Technology
July 1, 2019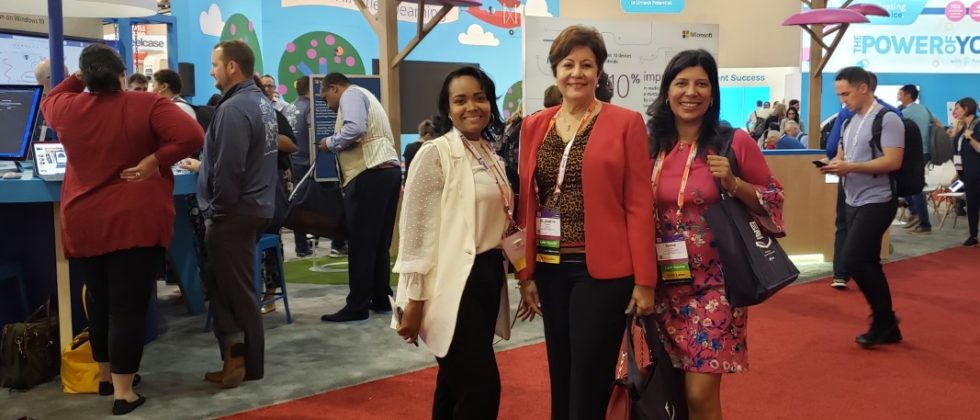 Philadelphia, July 1, 2019— From June 23-26, 2019, GFDD sent its New York Office Director Yamile Eusebio, along with Josefina Pimentel, a collaborator of Funglode's Center for Education Studies in the Dominican Republic, to represent the organization at the 40th Annual ISTE Conference and Expo, held this year at Philadelphia's Pennsylvania Convention Center with more than 20,000 attendees from 81 countries and a program of over 1,900 sessions.
The International Society of Technology in Education (ISTE) is an association that brings together global educators for learning and professional development on technology in teaching and pedagogy. ISTE also holds events year-round, among them the ISTE Annual Conference, which is among the "world's most influential edtech events." GFDD has taken part regularly in the ISTE Annual Conference since 2006.
Eusebio and Pimentel took part in a packed four-day agenda of events kicking off with a Sunday morning panel on "K-12 Guidelines for Artificial Intelligence" and, later that day, a Leadership Forum and reception in which educators explored together how the ISTE Standards—a framework of best practices for digital-era learning—are being implemented in learning environments around the world.
On Monday, the GFDD delegates took part in programming focused on edtech in Latin America. In the panels "Field Notes: Digital Learning Lessons from Paraguay, Chile, and Uruguay" and "Lessons Learned from Going 1:1 in Paraguay," panelists shared experiences on implementing a flexible framework to build edtech capacity in diverse countries in Latin America.
The session "ISTE Latino: New Spanish Professional Learning Offerings" presented consulting and advisory resources for educators working in the region. In addition, Eusebio and Pimentel had the opportunity to present the educational work that GFDD is currently carrying out in the United States with an exhibit at the ISTE Latino Learning Station.
The remaining days of the conference included keynote sessions, brunches, and forums aimed at practitioners seeking to enhance child-centered learning, accessibility, and inclusion in digital learning.
GFDD's representation at ISTE 2019 follows on its participation in ISTE 2018 in Chicago, when the organization's delegation included its chairman and former Dominican Republic president Dr. Leonel Fernández as an ISTE special guest and panelist. After last year's conference, ISTE CEO Richard Culatta planned a September visit to GFDD's New York office to formulate a memorandum of understanding between the two organizations.
The GFDD team's attendance of ISTE 2019 continued this long-standing partnership and cemented the organization's embeddedness in an international network of educators committed to the equitable and productive embrace of educational technology.