news
Joseph Stiglitz, Nobel Prize Winner in Economics (2001), States in Keynote Remarks that it is Necessary to Listen to the Voices of Latin American when Rewriting the New Rules of Globalization
September 21, 2023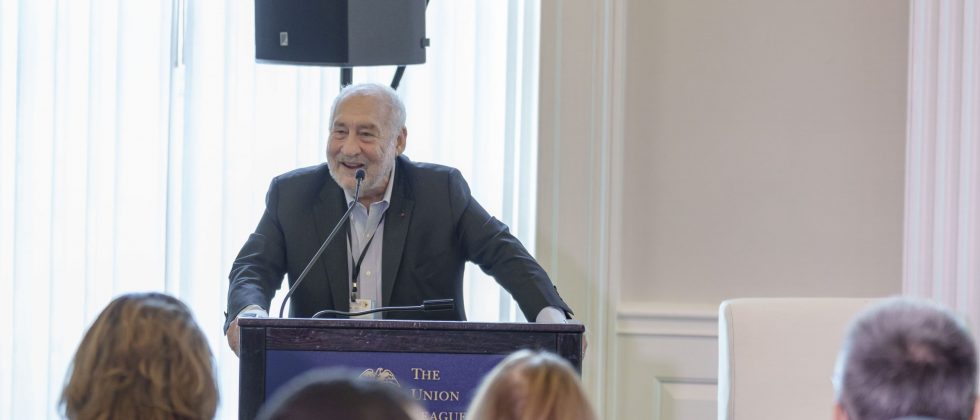 Joseph Stiglitz, 2001 Nobel Prize winner in Economics, highlighted this particular issue at the inaugural conference of the Latin America and Caribbean 2023 Global Forum, held in New York City this past Thursday, September 21.
(New York, September 21, 2023). Nobel Laureate Joseph Stiglitz considered that it is necessary to listen to the voices coming from Latin American when the time comes to rewrite a new framework and rules of globalization. His statements were made during his inaugural remarks, delivered at the inaugural conference of the Global Forum Latin America and the Caribbean 2023.
The event was organized by the Global Foundation for Democracy and Development (Funglode), the Global Foundation for Democracy and Development (GFDD), and the International Institute for Democracy and Electoral Assistance (International IDEA).
During his keynote address on the "Global Economic Situation: Globalization in the Current Economic and Geopolitical Scenario," Nobel Laureate Stiglitz stated that there are many changes currently underway under the globalization process that will impact Latin America and the Caribbean, as well as other countries around the world.
He also specified that the most important change in the globalization process has to do with the ideology that supports it. The process has been criticized both from the left and the right, and stated that economists have concluded that the importance of globalization was overestimated.
Stiglitz proposed that there is a new global geopolitical and economic structure that reveals the importance of borders, which was clearly demonstrated after the pandemic. He also noted that it is more important for countries to protect citizens than to follow the rules.
The Latin America and Caribbean Global Forum is held annually in New York within the context of the United Nations General Assembly. It aims to be a space for the exchange of ideas on the challenges and current situation of Latin America, as well as the consequences and impact of global trends that influence its social and economic development at the global level.
On this occasion, the event discussed the influence and impact that Artificial Intelligence has today on the democracies and electoral processes in the region.