news
Meet José Caraballo Cueto, GFDD/FUNGLODE Fellow in the Area of Economic Development and Poverty Eradication
July 24, 2012

The Fellows Program, an initiative of GFDD and FUNGLODE, is pleased to announce the fellowship of our most recent scholar, José Caraballo Cueto, Ph.D. Candidate in Economics at The New School for Social Research. José's investigation will examine how increases in employment and entrepreneurship would
contribute to poverty eradication and enhanced market competitiveness in the Dominican Republic. He will analyze how the country can maximize gains associated with the global market by expanding native productive capacity through entrepreneurial activity, from the creation of micro-businesses to the establishment of large-scale firms. José will refer to the economic success Japan, South Korea, Taiwan and Hong Kong achieved through the development of world class companies. His
study will also assess the multiplier effect of native exports versus that of free zone exports.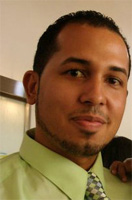 José will realize his fellowship under the guidance of Fellows Advisor in the area of Economic Development, Frederic Emam-Zade. Through the Program, José will also have the opportunity to connect with other professionals
conducting work on similar topics.
Our staff looks forward to working with José on this important study.
About José Caraballo Cueto
Mr. José Caraballo Cueto is presently pursuing a Ph.D. in Economics at The New School for Social Research. José holds a M.A. in Economics from the University of Puerto Rico College of Social Sciences and a B.A. in
Business Administration from the University of Puerto Rico College of Business Administration. He has experience teaching micro and macroeconomics at Berkley College, and has also worked as a research associate for Center of Puerto Rican Studies of Hunter College. José is the owner of two small businesses, Ferretería Caraballo and Remodelaciones Caraballo, and is a columnist for the newspaper El Nuevo Día. He is also a member of the forum
"Dominican Migration: Political and Economic Perspectives," organized by the Association of Students of Political Science.
About Fellows Advisor Frederic Emam-Zade
Frederic Emam-Zadé Gerardino is presently the Chief Economist of Fundación Global Democracia y Desarrollo (FUNGLODE), a multidisciplinary Think Tank founded in October 2000 and Chaired by Dr. Leonel
Fernández, who is presently the President of the Dominican Republic. Formerly, from August 2004 to August 2009, Mr. Emam-Zade was the Director General of FUNGLODE.
In November 2009, he was one of the first 18 graduates from Singularity University (NASA & Google) Executive Program in Silicon Valley and of Rutgers University first Singularity Studies Course. He is an Associate Member of Astronuats4Hire and Advisor of the Matternet – http://matternet.us/ – the next evolutionary phase of the internet.
Mr. Emam-Zade created and managed FUNGLODE´s first social networks and collaborated in the R&D of 3D visualization of economic and social data tools in virtual worlds, such as Linden Lab´s Second Life. He is much involved with the use of web 2.0, web 3.0 and web 3D tools for NGOs and businesses.
He is a highly qualified professional economist, investment promoter and negotiator who has provided remarkable results for many businesses, governments and international organizations, during the last 25 years. He is a successful businessman who has also worked in government twice, both times as Deputy Secretary of State of Foreign Affairs, and therefore knows very well how to do business in the Dominican Republic and how to deal with the Dominican business community and its
Government, in compliance with the U.S. Foreign Corrupt Practices Act (the "FCPA"). Some of the most recent clients and tasks include:
Barrick Gold Corporation (gold mining) Pueblo Viejo Dominican Corporation – Mediation of a dispute with local Gov't.
Paul Hastings (law firm), TCW and Societe Generale – BIT Arbitration & Settlement Negotiations with the DR
Gov't.
EgeHaina (electric generation) – Energy policy evaluation, design and advocacy of anti-theft legislative reforms
FERSAN (fertilizers) – Negotiations with Jamaican and French (Martinique & Guadalupe) governments
Centennial Puerto Rico (telecomm.) – Assistance in evaluating possible buy-out of Tricom (telecomm.) in the DR
Dickinson & Landmeier (law firm) & Zurich (debt default insurance) – Dominican External Debt Rescheduling
Kmart International Division (before bankruptcy) – Relations with the previous DR Government
Empresas León Jimenez (Beer and Marlboro (Phillip Morris)) – Policy monitoring, evaluation and advocacy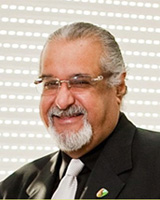 As the nation's Chief Negotiator during 1996 – 2000 Mr. Emam-Zade coordinated the Free Trade Area negotiations of the Dominican Republic with the Caribbean Community (CARICOM) and Central America, providing the producers of goods and services of the Dominican Republic, with free market access to nineteen (19) countries that contain more than 40 million consumers. He has a
profound knowledge of the most important markets in the region and has developed a very wide network of business and government relationships in these countries. Previously, during 1989 – 1992, he directed the Investment Promotion Council of the Dominican Republic, that promoted the establishment of more than 140 foreign businesses, mostly in the Free Zones of the Dominican Republic and mainly from the United States and Europe. Mr. Emam-Zade therefore knows very well what
foreigners need when starting up their business in the country and how to solve many of the problems they can confront.
He also helped design and promote many of DR´s economic policies and reforms during 1990 – 1996. Mr. Emam-Zade worked for SRI international's (formerly Stanford Research Institute) International Policy Center, directing international financial and technical assistance toward 32 of the most influential Dominican business
associations and other non-governmental organizations involved in policy dialogue, reform promotion and public opinion formation. Also, Mr. Emam-Zade incubated and founded the Dominican Republic's Securities Exchange and was a Member of its Board of Directors for many years. He has been on the Board of Directors of several companies and some non-profit organizations, as well as in many Government Councils and Commissions.
He studied economics at the
University of Chicago, with renown professors such as Arnold Harberger, Frederick Mishkin, George Stigler, Gary Becker and Robert Lucas; the last three Nobel Prize Laureates in Economics. Previously, he had graduated as an economist from Universidad Nacional Pedro Henríquez Ureña where he was professor of economics for many years.
About The Fellows Program
The Fellows Program, an extension of the
internship and academic exchange program InteRDom, was developed in 2009 to respond to the desire of GFDD and FUNGLODE to develop a community of scholars that contributes to the Foundations' growing body of research on matters of international concern that directly impact the Dominican Republic, complementing the overall mission of GFDD and FUNGLODE to promote academic exchange, generate scholarship, and influence the creation of public policy related to economic and
social development both at the national and international level.
Through The Fellows Program, GFDD and FUNGLODE seek to generate scholarship on issues at the forefront of the United Nations' agenda in order to give voice to national and regional concerns and offer viable solutions to domestic and international challenges.
The Fellows Program provides opportunities for M.S., M.A. and Ph.D. candidates interested in conducting high-level research
in the Dominican Republic on issues related to sustainable development. The final output of the investigation is a comprehensive report which includes empirical data. Fellows realize research in coordination with GFDD and FUNGLODE staff, National Advisor and their university professors.
Fellows that carry-out exemplary work have the opportunity to present their findings before the United Nations community on behalf of GFDD and FUNGLODE.