news
"Misión Estrella" in Washington, D.C.: Honoring the Memory of a Great Dominican Filmmaker
July 11, 2019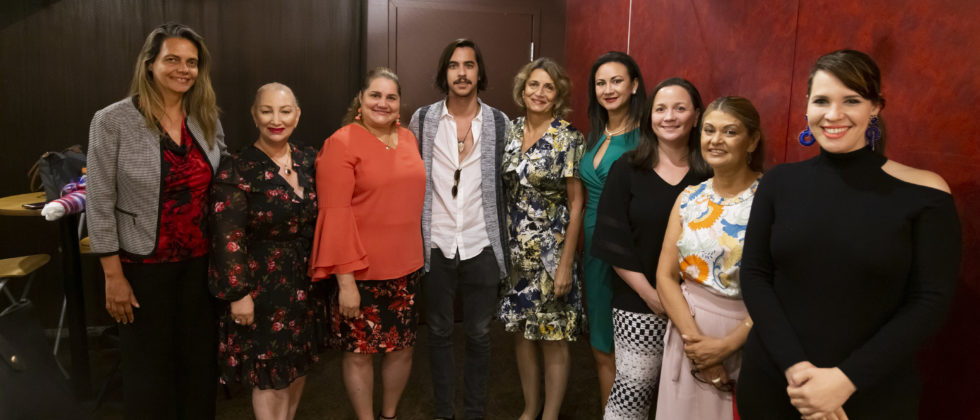 Honoring the memory of Dominican filmmaker and photographer Fernando Báez Mella, GFDD, with the collaboration of the Embassy of the Dominican Republic to the United States, hosted a special screening of his last film "Misión Estrella" at the GALA Hispanic Theater in Washington, D.C. The event was held on Wednesday, July 10, 2019, and had one of Báez Mella's son, Arturo Báez Cordero, as the special guest.
Natasha Despotovic, GFDD's Executive Director, gave the welcoming remarks noting the relevance of Fernando Báez Mella's work both in elevating the Dominican Republic's filmmaking industry and in promoting environmental consciousness and appreciation of the country's beauty and natural resources with his productions. She also praised the humble, loving and caring character of Fernando and expressed her sympathy to his family and friends. "Everyone who knew Fernando Báez has a good memory about him. He was just that kind of person. He was a great professional and also a great human being".
Before and after the film, the audience was able to enjoy brief videos with the honoree's life milestones and most relevant achievements, as well as a series of testimonials from actors that worked with him in "Misión Estrella".
After the screening, Despotovic and Báez Cordero engaged in a Q&A session with the audience. "My dad was an exceptional person, very perfectionist but always humble. Our wish is to continue his legacy and have the Báez family in the Dominican filmmaking industry for many years to come", said Arturo, when asked about his father's work and the fact that their whole family is part of Unicornio Films, Báez Mella's production company. Arturo himself is a film director already working on his first feature documentary film, which will focus on natural resources and the importance of protecting it. "It is impossible not to have inherited the love and passion for nature that my dad was so committed to", he said.
Following the Q&A session, Gretchen Pockels, Cultural Attaché of the Dominican Republic Embassy to the United States in Washington, D.C. had the final remarks and gave Báez Cordero a flower bouquet and a warm hug. "Your dad and your whole family make us proud as Dominicans and he will be deeply missed", she said.
Members of the Dominican diaspora, and representatives of international organizations and of the Dominican Embassy in D.C., were amongst the present in the event.
Dominican producer, director and photographer Fernando Báez Mella tragically passed away on July 3, 2018. In addition to having been a great friend and collaborator, Mr. Báez Mella was a member of GFDD's Dominican Republic Environmental Film Festival (DREFF)'s National Advisory Committee. A generous human being, Báez used his extraordinary talent, dedication, and passion to develop the Dominican film industry with productions that elevated the national pride. He was the first filmmaker to make use of the benefits of the Film Industry General Law, with his film "El Rey de Najayo" (2012).