news
NYMUNLAC 2019 Closing Ceremony Highlights Hard Work of Conference Participants and Volunteers
April 25, 2019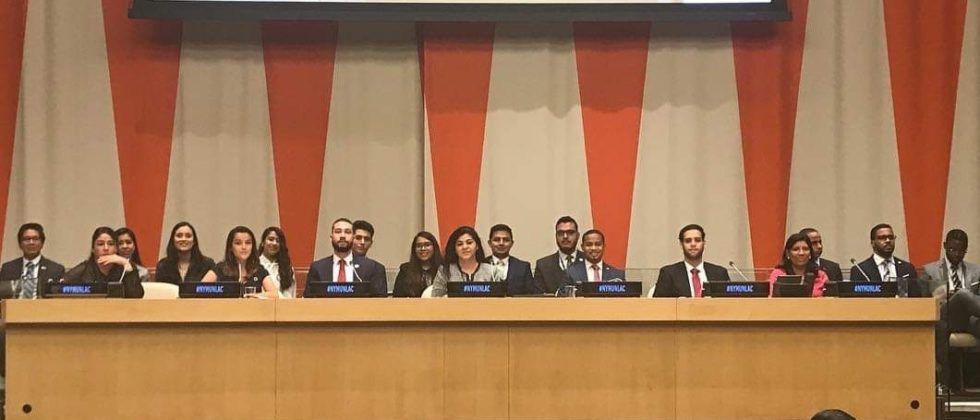 New York, NY – The New York Model United Nations Conference for Latin America and the Caribbean (NYMUNLAC 2019) came to a close on Wednesday, April 24 after a successful meeting of more than 400 students from the Dominican Republic, Mexico, Chile and Colombia. The conference began on Sunday, April 21 and featured debates on global issues ranging from climate change and migration to sustainable development.
Supporting organizations  of the meeting included the Dominican Association of the United Nations (ANU-RD); the Global Foundation for Democracy and Development (GFDD), and its sister organization in the Dominican Republic, Fundación Global Democracia y Desarrollo (Funglode) and the Mexican Civil Association, GlobalMuners.
The closing ceremony took place in the Hall of the Economic and Social Council (ECOSOC) located in the main headquarters of the United Nations in New York.
The award-winning delegations from the twelve commissions were honored by the organizing committee made up of Pilar Sandoval, the director of Globalmuners; Gabriel Fernández, president of the United Nations Dominican Association (ANU-RD); Ana Karen Hevia, coordinator of the volunteer corps of Globalmuners; Yamile Eusebio, GFDD New York office director; as well as Domingo Melenciano, Oscar Moquete and Mariana Castro, secretary general,  deputy of conference management services for NYMUNLAC 2019 and national official from the United Nations Information Center for Mexico, Cuba and the Dominican Republic (CINU, for its initials in Spanish), respectively.
Domingo Melenciano, general secretary of NYMUNLAC 2019, offered congratulatory words to all participants for their efforts in the different commissions. He gave thanks to the organizing committee and the volunteers for their dedication to the event.
The award-winning commissions were the United Nations Summit on Climate Change (UNSCC), the World Health Assembly – World Health Organization (WHO), the Human Rights Council (HRC), the Forum of Latin America and Caribbean States on Sustainable Development (Forum-CEPAL), the Permanent Council of the Organization of American States (PC-OAS), the Security Council (SC), the International Court of Justice (ICJ), the Press Corps (PC), the Commission on Population and Development (CPD), the International Maritime Organization Assembly (IMO-A) and the Security Council Counter-Terrorism Committee (SC-CTC).
Prior to the awards ceremony recognition was given to the organizations with the highest number of participants in the conference.