projects
Dominican Republic Encyclopedic Dictionary of the Environment

@MuestraCine

www.diccionariomedioambiente.org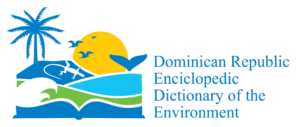 The Book
This book is an A-Z guide on the environment and natural resources of the Dominican Republic. Its 463 pages contain 712 terms defined with the most up to date and comprehensive information, illustrated with 700 photos, 58 tables, 123 figures, and complemented by 17 scientific articles on environmental challenges and conservation methods. The Dictionary seeks to increase understanding of the dangers of environmental contamination, while promoting respect, care and concern for the natural environment and its protection and sustainable use.
The "Dominican Encyclopedic Dictionary of the Environment" addresses the diversity of approaches and tools that are currently being used to conserve the environment and preserve biodiversity and other natural resources. Among these methods are the creation and management of protected areas; the implementation of sustainable agriculture systems; mechanisms for long-term financing (such as payment for environmental services); the conservation of coastal and marine resources; the ecological restoration of degraded ecosystems; the development and implementation of an environmentally friendly ecotourism approach; the management of environmental knowledge to promote learning, and the implementation of sustainable development concepts in general.
Buy Online on Amazon.com
If you wish to buy the book "Dominican Encyclopedic Dictionary of the Environment", place your order by phone to 212-750-5000 or send an email to:

Kenia Hernandez

(

kenia@globalfoudationdd.org)
Online Version – Updated!
This online version of the book, "Dominican Republic Encyclopedic Dictionary of the Environment" offers an opportunity to access comprehensive and updated information on the Dominican environment and natural resources with the added advantages a digital platform provides, making it a dynamic, up to date and interactive resource. Special features include national and international news on the subject, English-Spanish glossary, information on projects, environmental legislation and agreements, interactive maps, trivia and E-Cards.
Other Videos