news
UNA-DR Inaugurates the Second Dominican Conference of the Inter-American System Model
February 15, 2012

On February 8, Global Foundation for Democracy and Development (GFDD), in partnership with its sister institution in the Dominican Republic, Fundación Global Democracia y Desarrollo (FUNGLODE), the Dominican Republic Association of the United Nations (UNA-DR) and the Organization of American States (OAS) and the Youth Outreach and Development Program of the Inter-American Development Bank (IDB) celebrated the
inauguration of the Second Dominican Model of the Inter-American System (MODOSI 2012) at the Central Bank of the Dominican Republic's Jesús María Troncoso Auditorium.
"The Model will offer young people the opportunity to assume the role of ambassador and develop negotiation skills, and fine-tune conflict resolution abilities," affirmed 2012 MODOSI Secretary General, Luis Joaquín Ortega during the Opening Ceremony.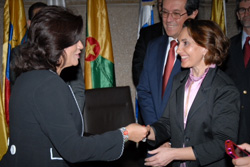 In preparation for the experience to follow, eager youth delegates viewed a video presentation of the highlights of MODOSI 2011 and student testimonials.
UNA-DR Director, Pilar Sandoval thanked 2012 international guests for their interest in the conference and presented OAS Secretary General, José Miguel Insulza, an award for his commitment to educational forums such
as MODOSI. The award was received by Ambassador Alfonso Quiñónez, OAS Secretary of Foreign Relations on behalf of the OAS Secretary General.
"This is the oldest organism in the world in which, despite the great degree of diversity, vast potential and regrettably poor countries, has achieved success in mediating problems and conflicts," expressed Ambassador Quiñónes. He encouraged students to take advantage of this meaningful space in which to debate topics of critical
relevance to the region.
To conclude the inaugural ceremony, Ambassador Alfonso Quiñónez, on behalf of the OAS, presented a special acknowledgement to President Leonel Fernández, which was received by First Lady Margarita Cedeño de Fernández on Dr. Leonel Fernández's behalf.
The event also featured participation by Asunción Sanz, GFDD Director of the Washington, D.C. Office; Marco Herrera, Executive Director of FUNGLODE; Aníbal Enrique Quiñónes Abarca,
Representative of the OAS in the Dominican Republic; Jorge Requena, Chief of Operations of the Inter-American Development Bank (IDB) in the Dominican Republic; and Nelly Robinson, Program Coordinator, Department of International Affairs of the OAS.
Conference sessions took place February 9 and 10 at FUNGLODE Headquarters in Santo Domingo, Dominican Republic. The Model simulated sessions of the General Assembly, the Permanent Council, the Summit of the Americas, and the
General Assembly of Governors of the Inter-American Development Bank.
Related links:
www.iadb.org
www.oas.org