news
XV edition of the International Conference of the Americas (CILA) inaugurated at Santo Domingo
October 31, 2019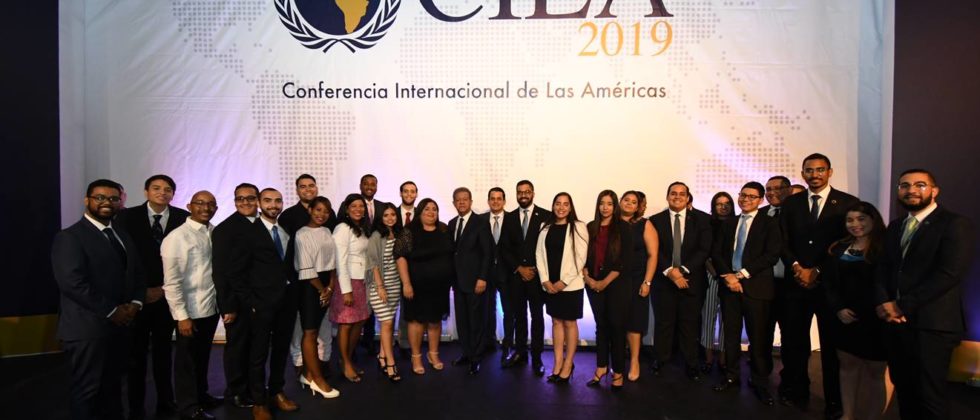 CILA is a student event focused on global issues and is of major significance in Latin America and the Caribbean. This edition will be held from October 30th to November 2nd.
Santo Domingo – The United Nations Association of the Dominican Republic (UNA-DR), the Fundación Global Democracia y Desarrollo (Funglode) and its sister institution in the United States, Global Foundation for Democracy and Development (GFDD), inaugurated the fifteenth edition of the Conferencia Internacional de las Americas (CILA 2019) this past October 30th.
CILA is a student event about global issues of major significance in Latin America and the Caribbean. This edition will be held from Wednesday Octobert 30th to Saturday November 2nd, at the Convention Center in the Renaissance Santo Domingo Jaragua Hotel in Santo Domingo.
The inauguration was led by Dr. Leonel Fernandez, president of Funglode and UNA-DR; H.E. Riyad Mansour, Permanent Observer of Palestine to the United Nations and president of the Group of 77; Edwin Jackson, executive director of UNA-DR; Yamile Eusebio, director of GFDD's New York office and director of Educational Activities at Funglode; Ligia Amada Melo, former minister of Superior Education; Rafael Valdivieso, general manager of UNA-DR, and Grisel Carbonell, secretary general of CILA 2019.
"We should belong in a space where our ideas are heard and where we are part of the youth that make a difference", announced Carbonell in her welcoming speech, in which she also reffered to the United Nation's sustainable development goals.
The secretary general also motivated participants to make "small changes in our lives to help fight climate change."
Ambassador Mansour emphasized the importance of the Model United Nations and the efforts made by the UN towards sustainable development.
"If you wish to be leaders and influence people, move towards themes of development, clean energy, eradication of hunger, and climate change. Secure your future, don't destroy it", he said as his clsoing remarks.
In taking the floor, Yamile Eusebio expressed the pride of Funglode/GFDD's contributions towards the transformation in the life of every student participating in Model UN.
"We've had so many achievements to showcase from the past 15 years, but there is one in particular I'd like to highlight and it's how this initiative gives back to society a group of talented young people that participated in previous editions and now have important positions in public and private institutions as well as civil society organizations in the Dominican Republic and other countries around the world."
The director of UNA-DR seized his participation to thank all the volunteers, parents, delegates, faculty advisors and task force that make every edition of CILA possible.
He underscored that 80% of schools around the country trust in this initiative that helps shape young people into global citizens.
During the inauguration, the delegates that participated in the General Conference of the United Nations Educational, Scientific, and Cultural Organization (UNESCO) read their opening speeches based around the theme "transforming education towards sustainable development."
Dr. Leonel Fernández concluded the activity by sharing a few motivational words with the audience where he spoke of his childhood dreams to become a baseball player, inspired by Juan Marichal.
He also shared the impact he experienced when he visited the United Nations headquarters for the first time as a primary student. He emphasized that years later, as president of the Dominican Republic, he would speak 14 times in that stage and was the first Dominican head of state to present in UNESCO.
Fernández expressed that he is pleased to see the participation of young people in the simulations because "they do it with such quality, such content and rigor, that it transforms them into true professionals of diplomacy in the Dominican Republic."
"We all have a compromise to contribute to change in our countries and the world", Fernández said as he indicated that the best way to transform society and the world is through understanding, which we achieve though knowledge and information. He added that this is exactly the task of Model UN, "a tool to understand the world in order to transform it."
CILA 2019 will be the meeting point for participants to work together in an environment of diplomacy and cooperation in search of solutions to challenges that face the international community.
The conference will hold simulations of 10 bodies and commissions of the United Nations and other multilateral organizations, both regional and international.