news
"Elections of Anger": Daniel Zovatto Highlights the Volatile and Defiant Context of Latin America's Political Reconfiguration
September 27, 2019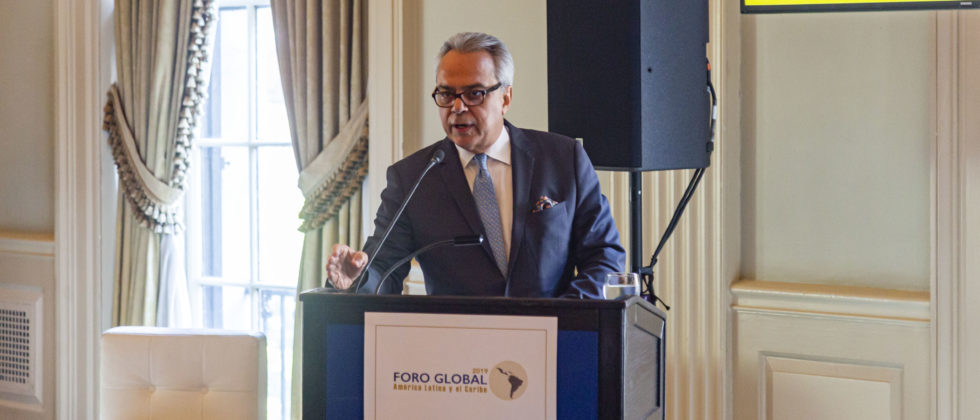 The regional director for Latin America and the Caribbean at International IDEA analyzes the main trends of the super election cycle in the fourth panel at the Global Forum Latin America and the Caribbean
New York – With just a few months left of the super election cycle, in which 15 of the 18 countries in the region will have held presidential elections in a period of just 36 months, Daniel Zovatto's presentation responds to the vital need to check Latin America's pulse. In the fourth panel of the Global Forum Latin America and the Caribbean, which is taking place right now in New York City, the Regional Director at International IDEA highlighted the region's anemic economic growth, complicated indicators of political culture that suggests a significant democratic fatigue and the growing polarization that is keeping the continent in doubt.
In addition to the heterogeneity of national contexts, which reflects the region's complexity in Zovatto's analysis, the renowned political scientist and lawyer identified key trends for the super cycle that must be at the center of dialogue and policymaking that seek to confront the challenges facing Latin America. The twelve elections that have taken place are characterized by the presenter as "elections of anger" where almost all electoral processes featured high levels of citizen discontent with politics and government.
The vote in the majority of countries punished the status quo, including in the three main economies: Brazil, Mexico and Colombia, he said. "The people's anger towards the establishment combined with complications of the new digital era including the normalization of lies and disinformation in election campaigns, intensified already-high levels of polarization," highlighted the expert. Zovatto stressed, additionally, that the impact that social media played presents an urgent challenge in regulatory terms as well as in the zone of control that election authorities must handle.
The presenter also reflected upon the low levels of credibility and legitimacy, the weakness of institutions, the prevalence of minority governments that do not have large enough alliances to pass reforms, which complicates governance and the significant setback in terms of the balance of gender at the presidential level.
With only elections left in Argentina, Uruguay and Bolivia during the next months to close out the super election cycle of anger, the Regional Director of International IDEA emphasized that new governments need to focus their energy on recovering citizen confidence, learning to govern in a context of high uncertainty and to produce concrete results that respond to people's high expectations and demands. That way we can start to calm frustration that has triggered the decline of popular support and the separation between politics and the people, which at the same time is making the region more polarized.

View Presentation
Panel 4: Latin America's 2019 Super Election Cycle
Author: Daniel Zovatto, Regional Director for Latin America and the Caribbean, International IDEA
More information about the Global Forum Latin America and the Caribbean
About the panelists: https://www.globalforumlac.org/en/panelistas/
Join the conversation @GlobalForumLAC on Twitter, Facebook and Instagram.