news
GFDD and the Permanent Mission of Uruguay Join Efforts to Spotlight the Importance of Sports as a Tool to Achieve the SDGs
April 5, 2019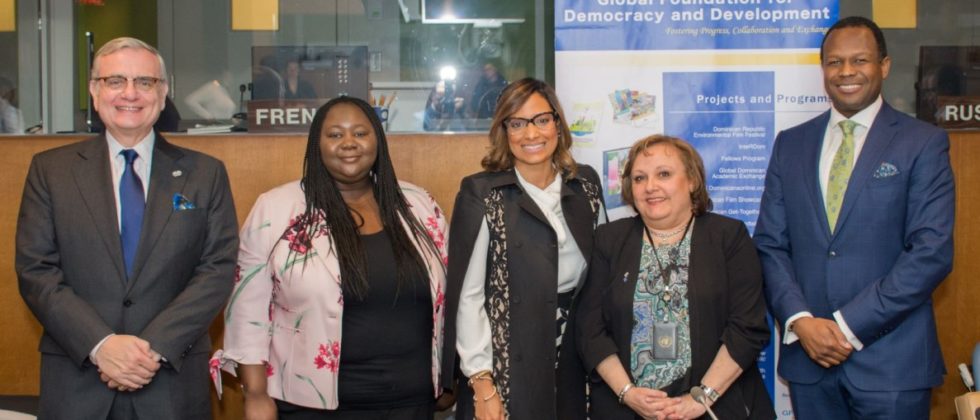 New York, NY. – GFDD Held a Side Event for International Day of Sport for Development and Peace 2019 at the United Nations in which the Foundation and the Permanent Mission of Uruguay to the UN agreed to a partnership through sports.
On Thursday, April 4 the Global Foundation for Democracy and Development (GFDD) and its sister organization in the Dominican Republic, Fundación Global Democracia y Desarrollo (Funglode) hosted a side event during the International Day of Sport for Development and Peace 2019 at the United Nations Headquarters in New York. The panel was supported by the Permanent Mission of Uruguay to the United Nations.
During a discussion panel on "Sports: Advancing the Sustainable Development Goals" high-level representatives and leaders to the United Nations spoke on the importance of sports and its ability to foster collaboration and development around the globe.
Among the panelists were H.E. Jorge Chediek, UNOSSC Director and Envoy of the Secretary General on South-South Cooperation; Minister Beatriz Nuñez, Permanent Mission of Uruguay; Vincent Jechoux, Permanent Mission of France to the United Nations; Ms. Aissata M.B. Camara, Deputy Commissioner for Operations and Strategic Partnerships and Ms. Carolina Cruz de Martínez, Director of the Pedro Martinez Charity.
The opening remarks of the meeting were given by Graciano Gaillard who introduced the speakers on the panel.
During the discussion, keynote speaker, H.E. Chediek called for common awareness on the importance of promoting healthy lifestyles by promoting physical movement. He also went on to stress the need to spread the word not only within the UN system but through other organizations as well.
GFDD expressed strong support for the calls of Chediek, on the pressing need of being 'tempted to move' as a way of securing a healthier generation through sports.
Minister Nuñez shared the experience of Uruguay, where the government has created a new sports agency to promote social inclusion and education on health as well as the inclusion of people with disabilities and physical education for senior citizens.
Ambassador Condor shared his personal experience as a former athlete. He commended GFDD for bringing together different stakeholders to discuss how we can all promote discipline, education and personal development through sports.
GFDD will continue reviewing the existing trends in sports and SDGs in order to bring new stakeholders into the discussion next year.