news
Leonel Fernández Concludes Broad Work Agenda During Visit to Washington, D.C., and Pennsylvania
October 1, 2021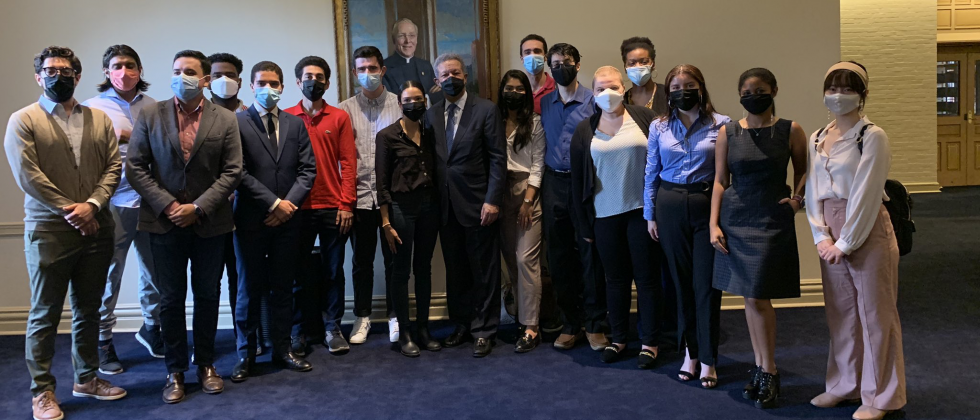 Washington, D.C. – The former president of the Dominican Republic, Dr. Leonel Fernández, carried out an active and broad work agenda during his recent visit to the state of Pennsylvania and the U.S. capital city, Washington, D.C. The goal of his recent visit is to strengthen the ties that unite the Global Foundation for Democracy and Development (Funglode) with several U.S. universities and institutions.
During his visit to the U.S. capital, Fernández visited George Washington University where he met with Dr. Lara Brown, Director of the School of Higher Studies in Political Management and with Dr. Todd Belt, Director of the university´s Political Management Program.
Among the issues discussed during the meetings was the design of a Certificate Program where Dominican students in the area of Political Management would be able to participate.
Also, an initiative to establish exchange programs between George Washington University and Funglode, a non-government institution founded and headed by former President Fernández.
During the visit to Washington, D.C., the former Dominican president was invited by the Latin American Foreign Affairs Association of Georgetown University to meet and discuss with Dominican students and faculty members issues related to the current state of Latin America.
During the event, Fernández exchanged impressions with Dominican students who participated in the event and who are also members of the Association.
Later on, the former President was a special guest at the gala awards dinner hosted by the Leadership for the Americas sponsored by the Inter-American Dialogue. Attendees at the event included Laura Chinchilla, former president of Costa Rica, and Congressman Gregory Meeks, Democrat from New York's Fifth District and Chairman of the U.S. House of Representatives´ Foreign Relations Committee. Also in attendance, Juan González, Special Assistant to President Biden for Western Hemisphere Affairs and Julissa Reynoso, Cabinet Chief of the Office of the First Lady of the United States, Dr. Jill Biden.
Also during his visit former president Fernández held a courtesy visit with Dr. Eugenio Días Bonilla, renown Argentinian economist who works with regional financial instruments.
Visit to Philadelphia and Pennsylvania
Prior to visiting Washington, D.C., Fernández visited the city of Philadelphia where he met with Temple University officials. He also toured the prestigious campus and met with university students.
From there, the former Dominican Head of State traveled to the city of Reading, Pennsylvania, where he was recognized by Mayor Eddie Moran, who awarded him the key to the city. Mayor Moran was accompanied by State Commissioner Michael Rivera.
During the event Fernández greeted State Congressman Manny Guzmán; Michael Rivera, Commissioner of the Allentown City Council; Dr. Julio Guridy, President of the Allentown City Council; Elvin Gutiérrez, President of the Association of Dominicans in Reading; Carlos Salas, religious leader, and Felipe Faña, President of the Reading Pastor´s Association.
The State Congress honored the former president in an event headed by State Congressman Manny Guzmán.