news
Making a Difference: GFDD Leads Workshop on Climate Change at the 68th UN Civil Society Conference in Utah
August 27, 2019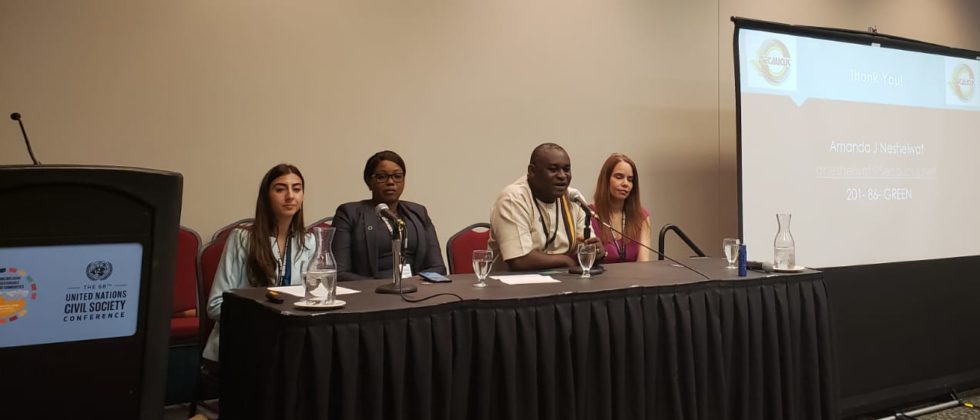 As part of the 68th United Nations Civil Society Conference, "Building Inclusive and Sustainable Cities and Communities", which took place August 26-28, 2019 at the Salt Palace Convention Centre in Salt Lake City, Utah, Global Foundation for Democracy and Development (GFDD) led the coordination of a workshop on Climate Change.
The workshop, "Climate Change Impacts All Cities & Communities: Together We Can & Must Make a Difference", took place on August 27th, and was hosted by GFDD with the collaboration of the NGO Committee on Sustainable Development-NY, Humanitarian Focus Foundation, Foundation for Post Conflict Development, Global Family, and NGO Major Group Urban Cluster.
"Climate change is an urgent matter in the face of the challenges our world is currently dealing with. People are in despair and hungry for solutions. We need to wake up and see what we have always known: the economic losses from natural disasters affect every aspect of society and is a key factor in the inferior quality and insufficient resources of the majority. It is the cause and consequence. We cannot face climate change because our infrastructure for a sustainable community is insufficient and we cannot face extreme weather with patterns that increment housing over time."
This inter-active dialogue on adequately, safely and affordably providing inclusive and sustainable housing and basic services, enhancing inclusive and sustainable urbanization, strengthening the efforts to significantly reduce the mortality caused by climate change and providing universal access to green spaces that work for the better good, included speakers such as Laura Serra Nova, climate reality leader volunteer; David Michael Terungwa, Founder and Executive Director of GIFSEP- Global Initiative for Food Security and Ecosystem Preservation, based in Nigeria; Dr. Andrise Bass, President and Founder of Humanitarian Focus Foundation, Vice President of ASPAFrique; and Amanda J. Nesheiwat, UN Representative for the Foundation for Post Conflict Development and the Environmental Director, as the moderator.
"Being environmentally sustainable is not necessarily expensive; we have proven to reduce costs and generate job opportunities in Secaucus, New Jersey, thanks to this approach", noted Ms. Nesheiwat during her introductory remarks.
Mr. Terungwa shared his experience in helping Nigerian communities become aware of climate change consequences, while Dr. Bass presented an important project aiming to create the first sustainable and resilient city in Baraderes, Haiti.
GFDD is a registered non-governmental organization with consultative status to several United Nations' bodies. Ms. Yamile Eusebio, GFDD's New York Office Director, represented the Foundation in this important annual gathering for civil society organizations.
In addition to the workshops, GFDD also participated in the Conference's exhibits, sharing with all the attendees the Foundation's programs and initiatives.
For more information about this event, visit: https://outreach.un.org/ngorelations/slc-conference